Year 9 virtual options information evening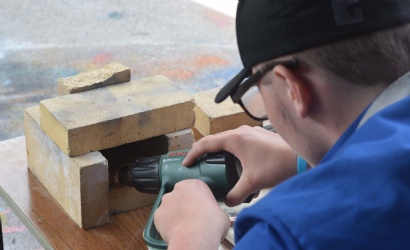 Year 9 virtual options evening is Thursday 11th March 4-6pm.
This year we're holding our Year 9 options information evening virtually, for both parents/carers and pupils. It will be a series of drop in sessions for all subjects, teachers will talk about their subjects and you have the opportunity to go into breakout rooms for further discussion on the subjects.
We're proud of the range of subjects and opportunities for pupils of varying interests, with a combination of GCSE's, plus BTECs and ASDAN, more vocational and life skills developmental choices.
Watch our video to find out more about all of our subjects!
We hope the evening is useful for both parents, carers and pupils to find out more about the range of subjects on offer at Key Stage 4.
Below is a copy of the information posted and emailed home.
1. Details about the evening and a schedule of the virtual drop-in sessions.
2. Option information booklet
3. Option choice form
Teachers will go through the Option information booklet with pupils in class and they can join us virtually to find out more direct from the subject teachers.
If you have any questions please contact the subject teachers.
Our Virtual Options Evening this year will take place on Thursday 11th March and a link will be sent to parents/carers for the meeting. Teacher's emails are below should you wish to contact them via email. The format of the evening is as follows:
We will have 8 slots available (2 for each Option Choice) for you to speak to staff
We will use the breakout rooms for you to talk individually to teachers.
Option Group 1 - Time slots 4.00 – 4.15 and 5.00 – 5.15
Option Group

Subject

Teacher name

Subject teacher email

1

Classics GCSE

Mrs Hercules

khercules@wkrs.co.uk

Sport BTEC

Mr Musgrave

rmusgrave@wkrs.co.uk

Drama GCSE/Arts Award

Miss Millington

lmillington@wkrs.co.uk

DT GCSE

Mr Saunders

csaunders@wkrs.co.uk

Horticulture ASDAN

Mr Jones & Miss Harris

mjones@wkrs.co.uk jharris@wkrs.co.uk
Option Group 2 - Time slots 4.15 – 4.30 and 5.15– 5.30
Option Group

Subject

Subject teacher name

Subject teacher email

2

Animal Husbandry BTEC

Mrs Booth

jbooth@wkrs.co.uk

History GCSE

Miss Hercules

khercules@wkrs.co.uk

Music GCSE/Art Award

Miss Comber

ncomber@wkrs.co.uk

Geography GCSE

Mr Cox

ecox@wkrs.co.uk

Duke of Edinburgh Award

Mrs Draycott

ddraycott@wkrs.co.uk

Mandarin Chinese GCSE/FCSE

Mrs Cui

ycui@wkrs.co.uk
Option Group 3 - Time slots 4.30 – 4.45 and 5.30– 5.45
Option Group

Subject

Subject teacher name

Subject teacher email

3

Horticulture ASDAN

Mr Jones & Miss Harris

mjones@wkrs.co.uk jharris@wkrs.co.uk

Computer Science GCSE

Mr Macdonald

gmacdonald@wkrs.co.uk

Food Tech BTEC

Miss Meegan

rmeegan@wkrs.co.uk

Art GCSE

Mrs Davies

rdavies@wkrs.co.uk
Option Group 4 - Time slots 4.45 – 5.00 and 5.45– 6.00
Option Group

Subject

Subject teacher name

Subject teacher email

4

English Literature GCSE

Miss Spence

rspence@wkrs.co.uk

Literacy Skills ASDAN

Mrs Wynne

ewynne@wkrs.co.uk

Mandarin Chinese GCSE/ FCSE

Mrs Cui

ycui@wkrs.co.uk

PSHE Plus ASDAN

Mrs Brown

sbrown@wkrs.co.uk

GCSE Plus

Mrs Hesketh

phesketh@wkrs.co.uk