"Rainbow of positivity!"- Neurodiversity umbrella project installed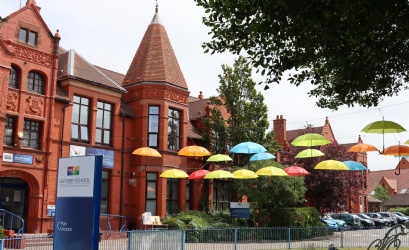 Neurodiversity awareness umbrella installation raises a smile again!
For the second time we have installed our school umbrella project to raise awareness of Neurodiversity. As one parent described it "A rainbow of positivity"
During Neurodiversity celebration week, pupils across the school decorated the umbrellas with their talents and skills or messages about being unique and celebrating difference. https://www.neurodiversity-celebration-week.com/ . Big thanks to staff for installing it for us!
Mrs Kelleher says "We love to encourage and see our pupils thinking positively about themselves, reflecting on their strengths, and of 'difference' as a norm or something to celebrate. The reaction from passers by is always a smile. Importantly, it sends a strong message out to our local community about neurodiversity awareness."
We were really pleased local schools participated in the project with some fantastic umbrellas, including Calday Grammar, Ridgeway High, St Joseph's Upton and Thingwall Primary.
The project was initiated by ADHD Foundation. The Umbrella Project celebrates the intelligence, ability and talent of every human being- including every neurodiverse individual, empowering and enabling the next generation of children and young people.
You can find out more here: https://www.adhdfoundation.org.uk/wp-content/uploads/2021/03/Umbrella-Project-2021-Compressed.pdf
"West Kirby School achieve outstanding academic outcomes with highly gifted intelligent children. They also provide highly individualised and very therapeutic provision for children with very complex needs."

Colin Foley, ADHD Foundation, National Training Director
Tony Lloyd, CEO, ADHD Foundation commented

"This school is outstanding in it's work to enable children who struggle in mainstream education to achieve their potential."