Anti-bullying week activities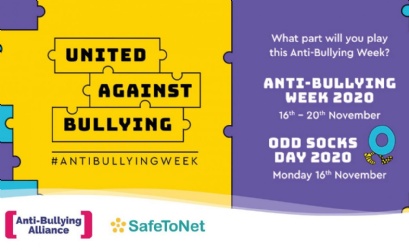 Our Pastoral Care Team are promoting Anti-bullying week with a range of activities, classes and an assembly, following the this year's theme 'United'.
A brilliant start the week, their 'United we are stronger' themed video was shared for pupils to watch in their bubbles. Thanks to Mr Brown, Miss Killey and teaching staff Mr Cox and Mr Whalley for their inspirational video! Not to mention, Mr Scullion for the behind the scenes technical production.
Our team have lined up these activities for the week ahead:
Monday 16th November is odd socks day for all staff and pupils to help promote the week.
Monday morning Mr Brown and Miss Killey will be giving each class a pack containing wrist bands, rulers, stickers and a pin badge.
Wednesday 18th November pupils our assembly will be on Cyberbullying
Finally on the Friday 20th November is it non uniform day with the emphasis on wearing blue.
Thanks to Mr Brown and Miss Killey!
More information for Parents and Carers
https://www.anti-bullyingalliance.org.uk/tools-information/advice-parents
Interactive lessons for parents and carers - https://www.anti-bullyingalliance.org.uk/tools-information/advice-parents/interactive-anti-bullying-information-tool-parents-and-carers
Part 1: What is bullying?
Part 2: The roles involved in bullying
Part 3: What to do if you think your child is being bullied​
Part 4: What to do if you know your child is being bullied
Part 5: What to do if you think your child might be bullying others
Part 6: What should the school be doing?
Part 7: How to make a complaint about bullying at school
Part 8: Cyberbullying (Online bullying)