Uniform
West Kirby School and College Uniform
Please find our uniform information and order form below.
All students are expected to wear school uniform, selecting their preferred choices from the options below:
White polo shirt, short or blouse
Black trousers/skirts
Cardigan, V neck jumper or V neck sleeveless jumper. Sizes 32" - 38" (£22 each)
Sweatshirt - Fleece lined (Child 28/30", 30/32", 32/34" £13 each and Adult XS, S, M, L £20 each
Blazer - This is optional from Year 7
Ties - Blue (years 7 - 9) and gold (years 10 and 11) which can be purchased from school at £4 (the first one is free of charge).
Black shoes or all black training shoes
All items are to be clearly marked with pupil's name.
All items with the school logo can be purchased from School Office. State size and make cheques payable to West Kirby Residential School.
If you would prefer to buy your own black jumper we can arrange for the logo to be embroidered.
Trainers or a second pair of shoes for outdoor games at lunchtime.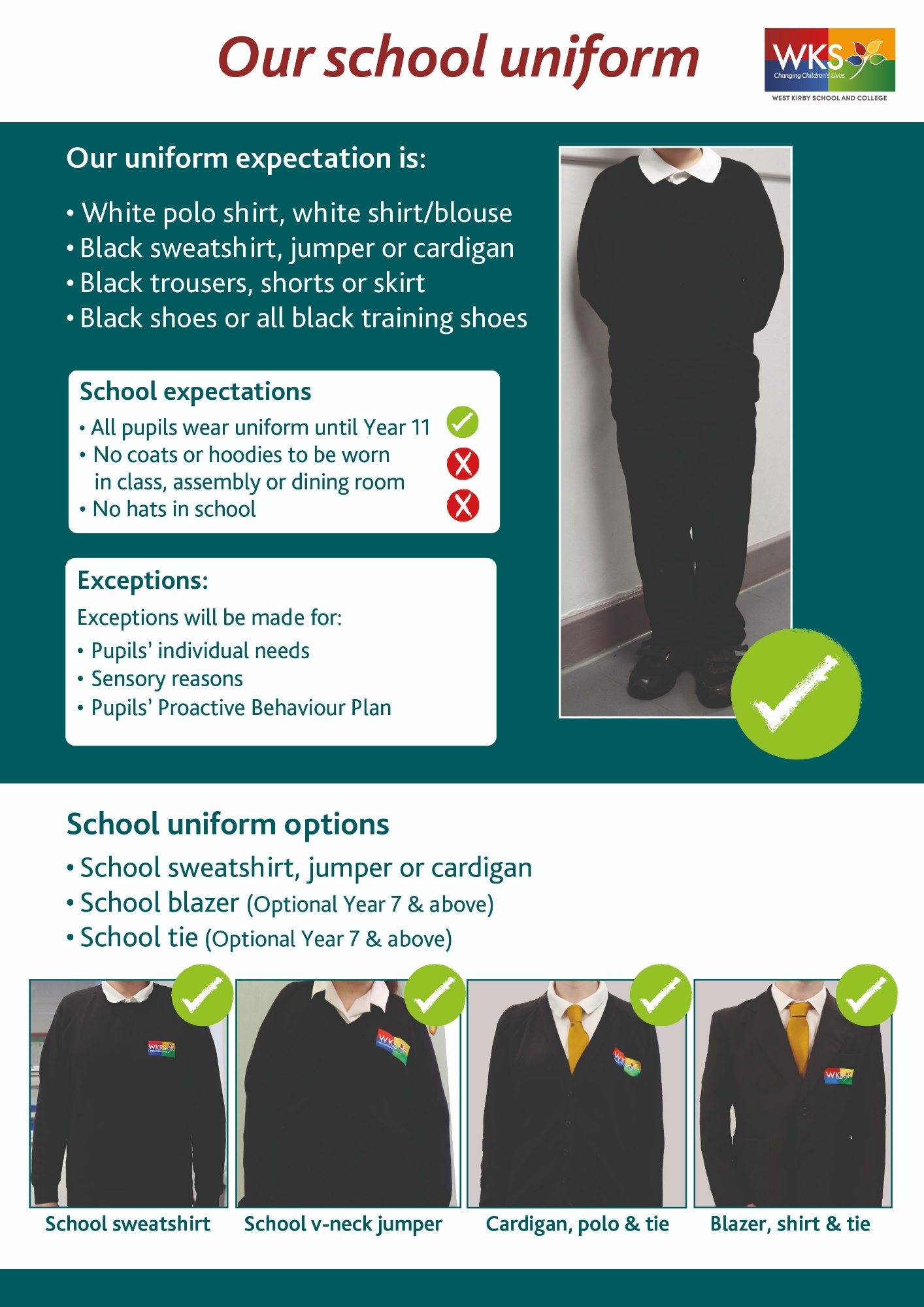 PE kit
For September 2021 we have introduced a new school PE kit. Please see more information on the guide below.
The school will make one first time purchase, of one style of t-shirt and one bottom variation. There is the opportunity to purchase additional items, including a hooded sweatshirt if you wish. This is also ordered through Mrs Beaver in Finance using the order form below.
PE kit includes a top (t-shirt/polo shirt), bottoms (leggings or track pants) and an optional hooded sweatshirt
Outdoor trainers
Trainers for Gymnasium (with non-marking soles) This is not essential
Swimming costume or trunks
How to order
When placing an order please ensure you provide the size required. Either cash or cheques are payable to West Kirby Residential School not West Kirby School and College.
As uniform is held in stock, staff are able to assist pupils in choosing the correct size.
N.B. The School does not provide a laundry service, other than for emergencies.
Information for residential pupils
Case or holdall
3 white polo shirts
2 pairs of grey, black or navy trousers or skirts
5 sets of underwear, socks or tights
1 or 2 sweatshirts – purchased from school
Suitable jacket/coat
2 pairs of shoes – black
Trainers
1 or 2 pairs of pyjamas or nightdress
Dressing gown and slippers
3 sets of casual wear
Toiletries – toothpaste, toothbrush, soap, flannel, deodorant etc contained in a toilet bag
2 or 3 sets of towels are supplied, but pupils may bring their own duvet covers and towel if preferred
* Please note: Our uniform logo was updated to be brought in-line with the school name as WKS, West Kirby School and College. There is no requirement for pupils to use the updated jumper and sports t-shirt if they have existing uniform. If parents/carers have purchased uniform with the old badge since the start of September 2020 we are happy to replace it with the new items.