Curriculum
West Kirby School and College curriculum
Leaders have given much thought to developing a broad, balanced and ambitious curriculum; thought very carefully about the strengths and interests of pupils; they offer courses and subjects suit pupils well. Ofsted 2021
West Kirby School and College offers an innovative curriculum developed with the aspirations and interests of the student at the centre. At West Kirby School and College, all pupils follow the 2014 National Curriculum with ambitious qualification opportunities to suit a range of learning abilities; from the English Baccalaureate (EBacc), A/AS Level, GCSE, BTEC, Cambridge Nationals to Entry Level Certificates.
We offer a holistic approach through our wider Support Services Team who provide a wide range of pastoral and therapeutic support to enable pupils to access an innovative and aspirational curriculum.
Please find details of all our subjects included in our curriculum here.
Our curriculum rationale
At West Kirby School and College we believe that children are entitled to a curriculum that raises the aspirations of every child and gives them the confidence to fulfil their potential through positive learning experiences. West Kirby School and College is a school for pupils with complex learning needs including autism and ADHD. This impacts on individual development and, to differing extents, shapes the nature of the child's learning experience. Education for children at West Kirby School and College should reflect the unique presentation of each individual, for example meeting sensory needs, providing for social and communication difference or challenging areas of strength. We believe these differences merit a specific approach, whereby skills can be fostered to maximum effect, rather than trying to fit the child into a 'normative' model of development.
Core aims of the curriculum at West Kirby School and College are to support each child in developing independence, to encourage a positive sense of self, and to promote a positive attitude to learning, so that each child can access learning fully.
Pupils at West Kirby School and College require a support network that is cohesive. We believe it is imperative to work in close partnership with parents, carers and families, to facilitate the sharing of good practice and success across all environments. Drawing on the expertise our school provides including: speech and language therapists, occupational therapists, psychologist, ensures we have a dynamic and holistic approach to every child.
Our curriculum aims are:
To ensure all our children are at the centre of a broad, varied and interesting learning experience that is enjoyable and relevant for the future.
For all pupils to gain 5 GCSE or equivalent by year 11
Our creative curriculum aims to create a sense of awe and wonder and helps to inspire a lifelong love of learning.
The holistic nature of our practice promotes positive mental health and well-being and enhances our children's life skills, social skills and cultural awareness.
Relationships are developed between children and adults that are positive, consistent and secure.
Provide an environment which meets the needs of all children.
Meet sensory needs.
Develop self-awareness and self-control.
Develop resilience and motivation for learning.
Support children in responding to change.
Recognise and support anxiety in children.
Celebrate success in all its forms.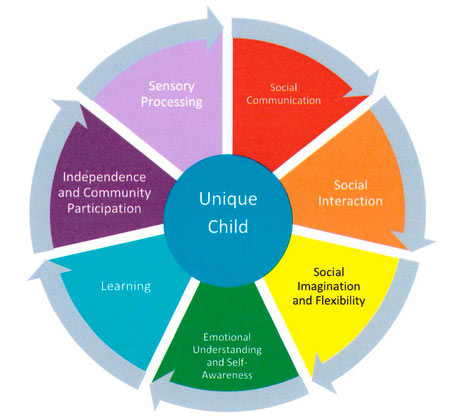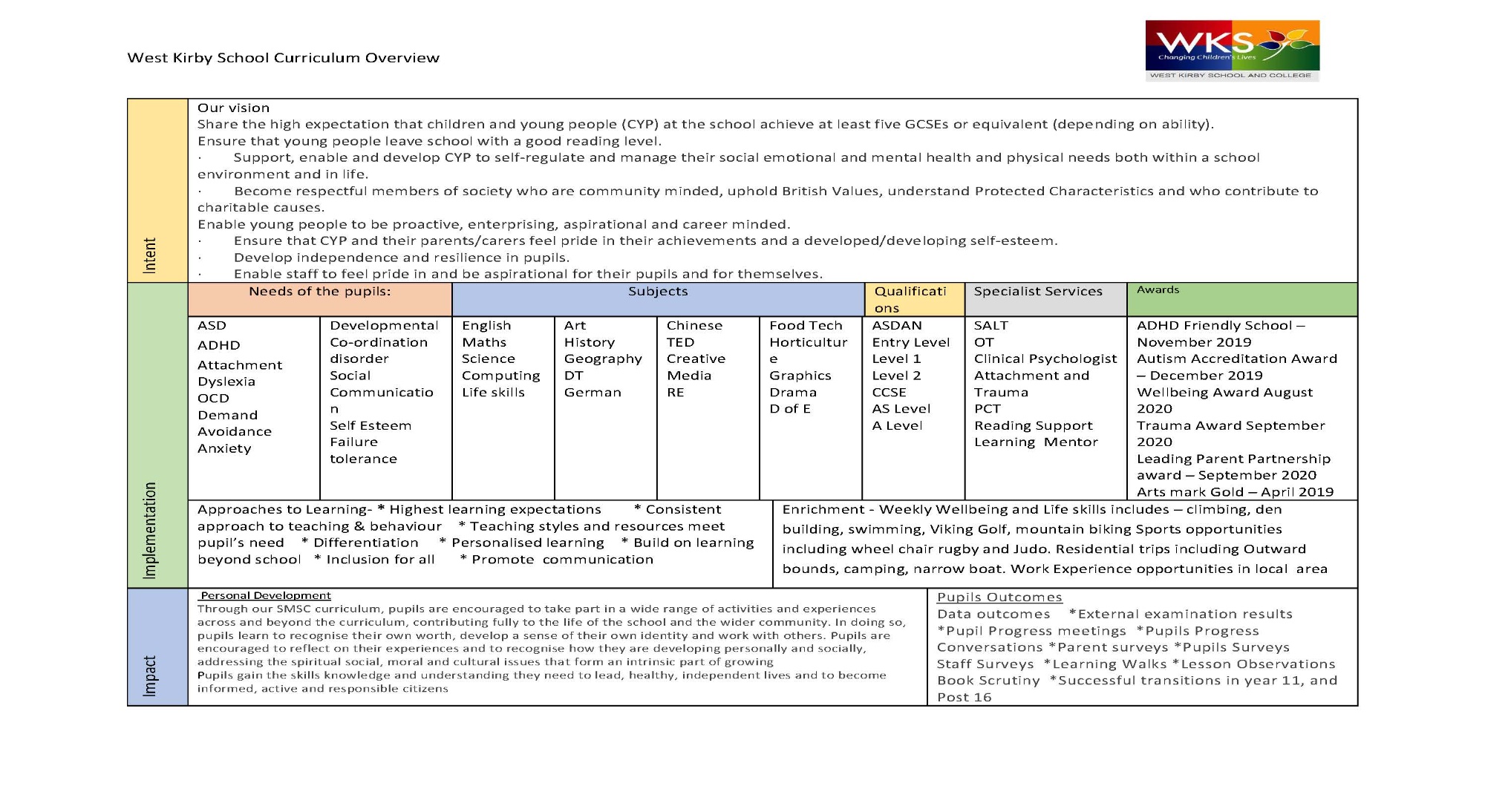 Our curriculum across the school
Key Stage 1
At Key Stage 1, learning is promoted through discovery, exploration and creation in a supportive and enriching environment based on the interests of pupils. Creative learning and thinking is at the heart of everything we strive to achieve. In Key Stage 1 all of our pupils to receive an innovative and creative education that challenges their knowledge, skills and abilities to a point at which they are making exceptional progress. Through our curriculum, we want to enable all pupils to become motivated, engaged and inspired lifelong learners.
Key Stage 2
At Key Stage 2, the curriculum design and planning means that we build in many opportunities to develop and apply knowledge, skills and understanding in and across every subject. This ensures that children are able to revisit previous learning, which allows them to gradually develop a deeper understanding of the skills and processes within all subjects, at their own pace and in the best possible way for each individual child. Pupils study English, Maths, Science, Computing and topic (History and Geography), Design and Food Technology, Art, Music, Drama, Physical Education, and Personal, Social, Health Education (PSHE).
Key Stage 3 (Years 7, 8 and 9)
All students study English, Mathematics, Science, History, Geography, Religious Education, ICT, Design and Food Technology, Art, Music, Drama, Physical Education, and Personal, Social, Health Education (PSHE)
Assessment at Key Stage 3
As you may be aware, schools have now moved away from the 'level' assessment system which has been used for many years. Instead we have moved to a more flexible, school based assessment system (pathways) which focuses on looking at student progress and mastering skills in subject areas, so that teachers can easily see specific progress made by students and report this to parents.
Key Stage 4 (Years 10 and 11)
Students move into Key Stage 4 at the beginning of Year 10. At this point they will move onto the 'core' curriculum.
The core curriculum at Key Stage 4 consists of English, Mathematics, Science) PSHE & Citizenship, Physical Education and Religious Studies.
Students then select 4 'options' from the list of additional choices. These currently include: Art and Design, Computer Science, Drama, Geography, German, History, Music, 3D Design, Art and Design, Creative Media, Information Technology, Computer Science, Duke of Edinburgh, Engineering and Design, Creative i-media, Horticulture, Chinese, Graphics, Food Technology, Creative Writing, Graphics and Life Skills.
Our aim is that all students leave Key Stage 4 able to progress to a range of vocational or academic courses, or to further training linked to their chosen career. In order to achieve this, all students and their families will receive expert advice, guidance and support.
Key Stage 5 (Post 16)
Our Post 16 provision provides pupils with the opportunity to resit qualifications and have further opportunity to study a limited amount of subjects to AS and A Level standard. Post 16 is an excellent opportunity to develop life skills ready for the next stage of their education or work. Enterprise skills are also developed, alongside numerous opportunities to visit colleges and places of work.
Consistent approach for Residential Pupils
For residential young people, the Residential Team follow the guidance from school staff to ensure that they are able to support each pupil's learning needs. The learning resources used within school are also available on the residential groups thus ensuring a consistent approach to supporting the development, in all areas, of all our resident pupils.