Meet our Animal Care department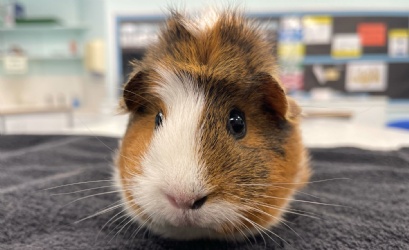 Animal Care department opens at West Kirby School
We're pleased to share exciting news that we've opened an Animal care department at West Kirby School and College. Our Animal care team includes Subject Lead, Mrs J Booth, Subject Teacher, Miss Allison and Animal Care Technician Helen Hitchmough.
Animal Care broadens our vocational subjects and options at KS4, with the opportunity to gain employability and learn life skills. It also brings wider benefits including lowering anxiety, teaching skills about treating others kindly and cautiously, modelling gentle behaviour and teaching compassion. It's a great conversation starter that allows friendships to grow and social skills to be learnt.
Pupils are involved in choosing and buying the animals and researching to get their habitat ready for arrival. All names have also been chosen by our pupils which creates some excitement around the school!
WKS Mini Zoo
Our school mini zoo is growing quickly and includes:
Reptiles : Jessie the tortoise, snakes, bearded dragons, gecko's
Mammals : Rabbits - Latte and Cookie Dough, guinea pigs - Stacey and Maggie, mice, hamsters.
Birds - Our chickens which are with us in the chicken coop built by pupils, possibly finches to follow.
Fish and insects - a few tropical fish and stick insects.
Students also have the opportunity to meet visiting dogs and cats.
Pupils in Year 7-9 have the Animal Care on their timetable. They have the opportunity to feed, water, groom, handle and health check different animal species including dogs, tortoises and snakes. Animal Care provides a sanctuary for many of our children to come and develop their communication skills and confidence. They'll get to learn about:
Safety around animals - correct handling techniques, care, welfare needs and common behaviours animals show and what they mean / signal. This will support developing nurture skills and empathy as well as motor skills and confidence.
Animal welfare and laws - again looking at the needs of the animals and how we can make sure they are safe and happy.
Also careers working with animals - developing aspirations for students who may wish to follow a career within animal care sector.
BTEC Animal Care Option
In Key Stage 4 the pupils can choose to take BTEC Animal Care. This has been developed to provide an engaging introduction to the animal care sector for learners aged 14 years and above. It is designed to be taken as part of a broad curriculum, alongside GCSEs and/or other vocational subjects.
Animal care is a vital sub-sector within the land-based industry and is important to the UK economy. Due to huge demand from the sector, we have created a qualification in line with the Department for Education (DfE) criteria for Key Stage 4 qualifications.
For more information this visit our Animal Care Curriculum page
Meet some of the members of our school mini zoo