Nathanael, aged 15, has won the prize for British Woodturner of the Year competition, Young Woodturner category, under 18's!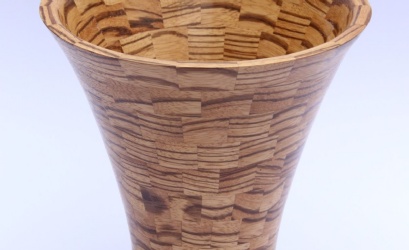 He was invited to the prestigous awards event at Oxo Tower, London and his woodwork now exhibited as part of 'Celebrating British Craft' at Oxo Gallery.
Nathanael has developed his talent and interest in woodturning through school, inspired by staff but a collaboration of support with family, developing a workshop at home and even self-taught on YouTube! He's started selling his woodwork through local fairs including Wirral Festival of Firsts. His craftwork is innovative and includes smartphone and tablet speakers, along with beautifully crafted bowls and chopping boards.
Nathanael has an Autism diagnosis and has been part of our 'Zone'part of the school since Year 8. West Kirby School offers an alternative curriculum to support our pupils develop personal, social, emotional and life skills which are meaningful for their future. His parents commented 'A different approach to his education 'thinking outside the box', using woodturning and photography special interests to engage him in school has been key to his success'.
Mr Saunders, Nathanael's DT teacher says "It's amazing, 2 years ago he didn't know how to use any tools, I showed him how to use the lathe and this is where he's ended up. So proud."
We're proud to see Nathanael is also now moving into public situations and has his own stall at our last school Christmas fair. Nathanael hopes to now progress this as a career.
Look at more of Nathanael's woodturning on Instagram - griffithswoodworking
Congratulations to Nathanel! And good luck with your future woodturning!