Christmas Enterprise market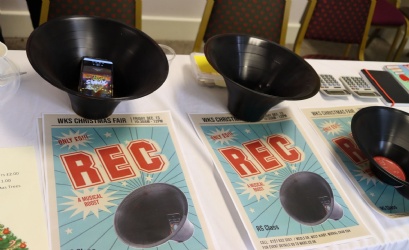 Our first Christmas Enterprise market was a great success this year! We were pleased it was so well attended by our families, friends and local community, all supporting our young people. It raised over £400 towards our school fundraising.
The market was run by our classes, each with their our own festive products. Each class has worked together on Christmas related items to sell, from christmas tree decorations and wreaths, mince pies, plants, pebble pictures, recycled christmas tree decorations, t-shirts, christmas food treats and christmas decorations. Classes had even produced posters, price lists and a website!
Our classes won prizes for Enterprise related skills such as Best team, Best recycled products, Most innnovative products, Most profitable and our Overall enterprise team of the market - Post 16 Class LM.
Thank to you all for coming along to make it a success!
Our Post 16 class LM won the 'Overall Enterprise Team' at the market, with their T-shirt, mugs and recycled jewellery business.
Overall Christmas Market Enterprise team winners!
Class LM had shown real Enterprise skills, created a business name, slogan and even thought through their ethos. They had done market research during an employer visit, gone through trial and error production challenges in DT, shown brilliant marketing skills with their website and produced excellent end products! Importantly they'd worked as a team and developed skills invaluable for their future pathways.
Congratulations Class LM!