Community SEN workshops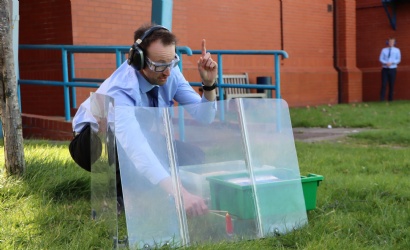 This term we've enjoyed the start of our Community SEN workshops, working with local schools and professionals working with young people with SEN.
Our aim is to share good practice in understanding and practical strategies to help support pupils in the area with special educational needs.
Our staff across the school have delivered the sessions, including our Speech and Language therapist, Therapeutic support team, Assistant Heads and SENCo and Science teachers. We've delivered workshops on Autism, Attachment and Trauma and 'Neurodiversity' for Neurodiversity Celebration Week and pleased to see Teaching assistants, Teachers, SENDCos, office staff, Yoga teachers and even our local church youth workers.
For National Science week we welcomed in pupils from local Primary schools Thingwall Primary and St Joseph's Upton and the nurture group from Ridgeway School, for Science workshops "Fizz, Bang, Pop!' It was a fantastic atmosphere, giving pupils the opportunity to explore experiments with pops and rockets in the science lab!
Feedback from our Science workshops:
"I just want to say a huge thank you on behalf of our children for the opportunity to attend the Science workshop yesterday. We all had the most wonderful time and it has had such a positive impact upon the boys who attended. They have been so confident to talk about their experiences and we have had so much positive feedback from parents." Maria Anderson, St Joseph's Upton
"Please can you pass on our thanks to you and your staff for a lovely FIZZ BANG POP afternoon at West Kirby.
The children loved the afternoon- all ages were involved. We LOVED the POP shock!
Thank you also for the pencil cases, work books and goodies. We are sorry that we had to rush off at the end to catch the mini- bus. You were so kind. A great opportunity for the children. Thankyou" Julie Goulding, Thingwall Primary